Strengthening health-care services for Syrian refugees and the host community in Arsal
IRVD In Lebanon (IRSAL)
Lebanon has hosted large and growing groups of refugees since the beginning of the crisis in Syria. According to estimates by the United Nations High Commissioner for Refugees (UNHCR), there are about 1.2 million Syrian refugees in Lebanon, making up about 25% of the population, most of them in poorer host communities.
The large influx of Syrian refugees into Lebanon, due to the escalation of the conflict in Syria, has put considerable pressure and burdens on Lebanon's healthcare system. This left hundreds of thousands of Syrian refugees without essential healthcare services.
Given the urgent need for health and psychological care services for Syrian refugees in Lebanon, IRVD contributes health services to a wide range of the host community and refugees in the region, with the support of the King Salman Relief and Humanitarian Aid Centre, to alleviate the suffering of the Syrian refugees and the host community affected in Arsal.
March 2021
IRVD Organization implemented the "Strengthening health-care services for Syrian refugees and the host community in Arsal" project in Arsal, supported by KSrelief.
The project activities and services officially began on 15/03/2021, when a government health center under the Ministry of Health of the Government of Lebanon was relocated to accommodate a more significant number of beneficiaries, to work by the laws of the country in which the project is being implemented and coordinating with the local authorities. Until the preparation of this report, the center was able to provide 127,045 services distributed to 76,461 beneficiaries.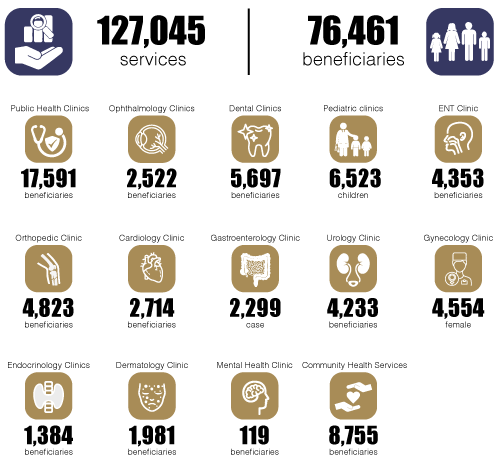 The overall goal of the project
Providing health care services, psychosocial and nutritional support, participating in routine vaccination campaigns, and providing free medicines to Lebanese citizens and Syrian refugees in the Arsal region and its countryside in the Republic of Lebanon. It is expected that the project will benefit more than 65,000 beneficiaries among Lebanese and Syrian refugees on a regular and free basis.